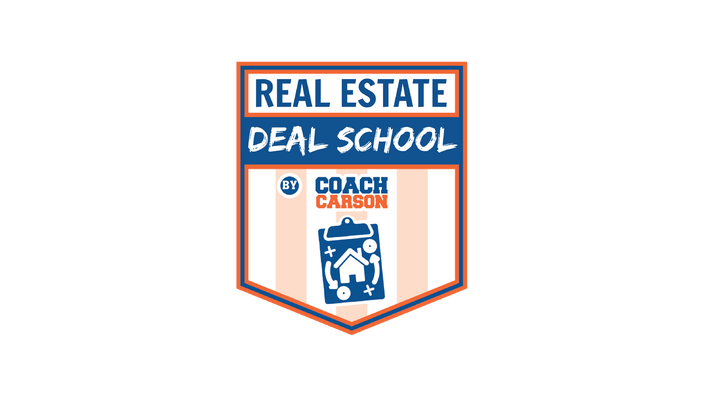 Real Estate Deal School
Find, Finance, and Buy Your Next Real Estate Deal With Step-by-Step Guidance
In 9 weeks, you will emerge from this course with the tools, knowledge, and confidence you need to start buying your next investment property.
This course is closed for enrollment.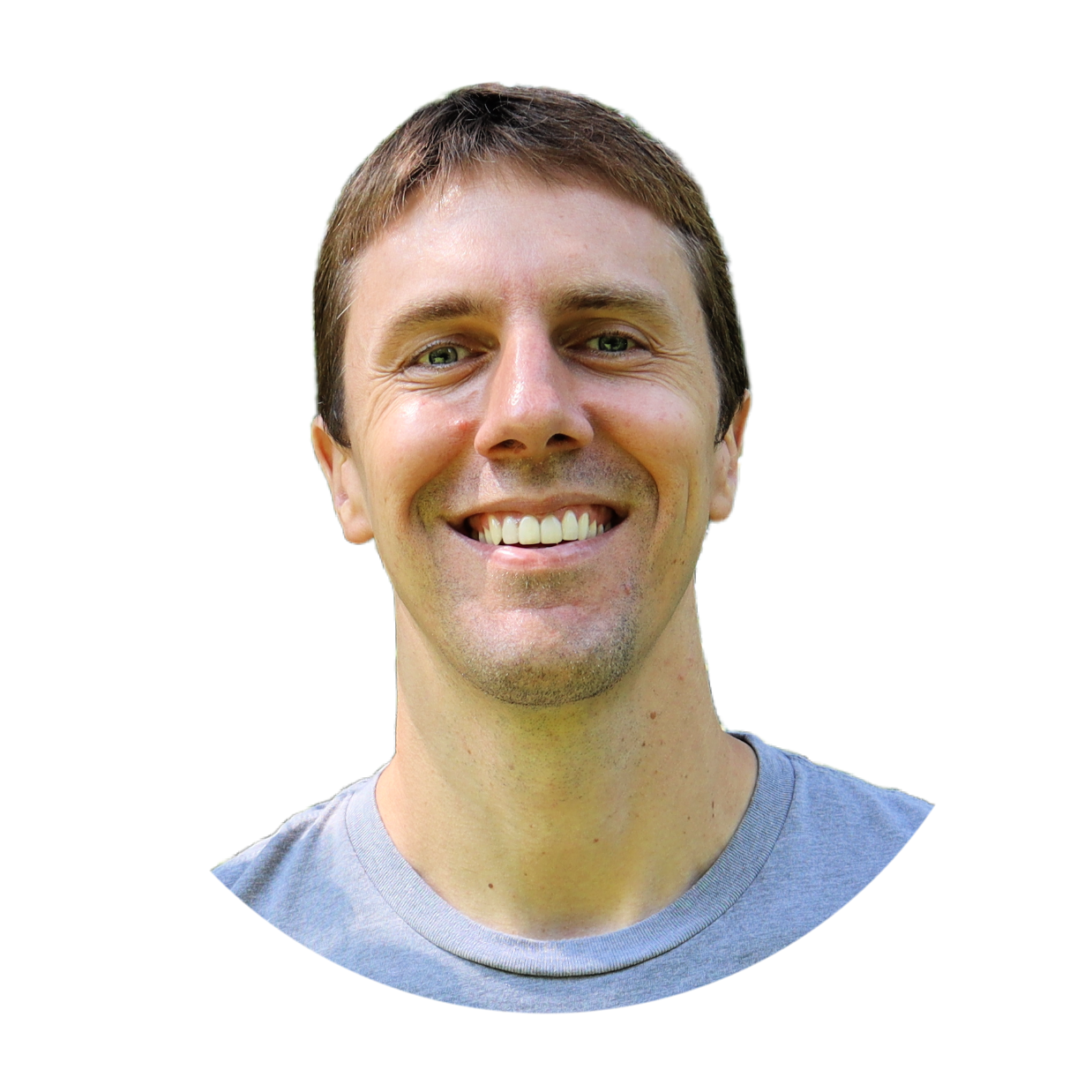 Hi, I'm Chad Carson
Learn a Process to Buy Good (& Safe!) Deals in ANY Market

In 2003 right after college, I began investing in real estate full-time. It was a hot, competitive market and I had a LOT to learn. So, I spent most of my time the first years learning to find, finance, and buy good real estate investing deals.
By 2007, I had learned enough to purchase 33 deals in one year.

A business partner and I have continued to purchase well over 100 real estate deals since that time, including in hot markets (like 2004-2006 and today) and down markets (like 2008-2009). And we've used the resulting real estate income and wealth to achieve financial independence.

Now in 2022, the real estate market can seem frustrating and even irrational. Prices are rising and it seems like everyone wants to buy a property. Can you still make investing work in an environment like this?
In short - YES. You can make investing work now (or in any market), but now, more than ever, you need to learn competitive skills that separate you from the crowd. Plus, you've got to learn time-tested investing disciplines that avoid the big mistakes if we see a sudden change in the market.
I created this course to share the good, bad, and ugly I've learned through 18 years in the school of hard knocks. Like a co-pilot helping you to navigate the real estate investing journey, this course can help you each step of the way.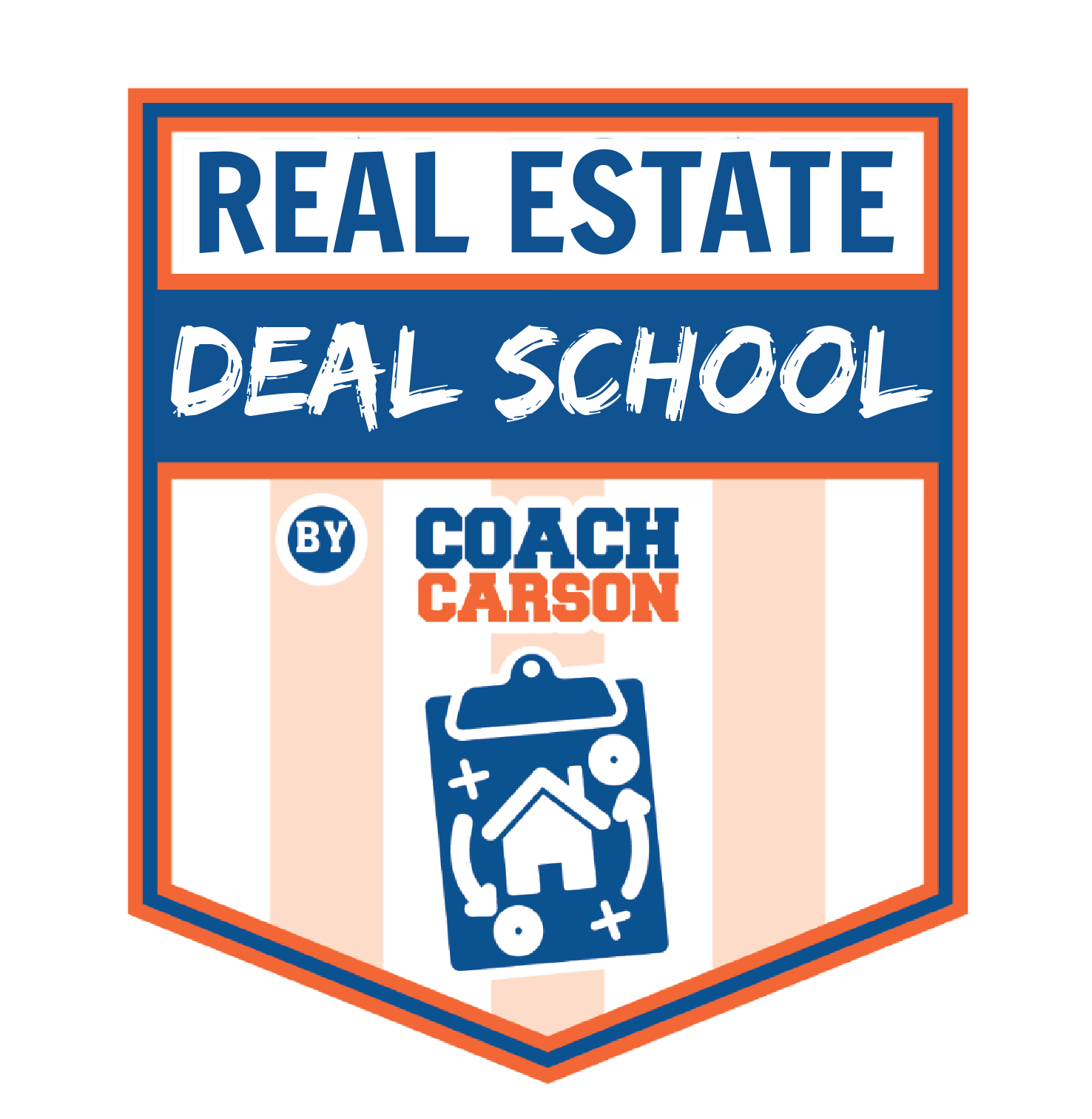 Learn How to Find Your Focus, Track Down Good Investments,
Get the Money You Need, & Close the Deal

By the end of Real Estate Deal School, you will:
Develop a customized real estate plan for YOU: Like picking from a menu, this course will help you choose the unique real estate plan that will move you towards your financial goals.
Pick the right market for investing (local or long distance): You'll receive detailed instructions and a checklist so that you can make sure you have a profitable investing market, either locally or long distance.
Run the numbers to know you have a good deal: Real estate investing is a numbers game. So, you'll learn the most important formulas to confidently evaluate your next property purchase. Plus you'll receive the same deal analysis spreadsheet Chad uses on his deals.
Get the money to fund your deals: You'll learn the best sources of financing, both traditional and non-traditional (like seller financing and private money). And you'll get ideas to raise money for down payments and other cash needs.
Build a dream team to help you succeed: The right team will make or break your efforts, so you'll learn the most important team members, like real estate agents, CPAs, contractors, etc. You'll also learn how to choose the right ones.
Find good deals: Nothing else works in real estate investing if you can't find a good deal. You'll learn how Chad has consistently bought good deals year-in, year-out for 18 years - including 17 proven strategies in the grad course - Real Estate Deal Finder.
Positive Student Feedback
Since 2017 hundreds of satisfied students have taken this course to learn how to buy more real estate deals. Here are a few examples.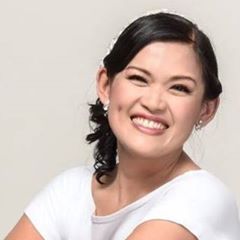 "After my first year, I flipped one house, added a rental to my portfolio and closed a wholesale deal.
Joining Real Estate Deal School is one of the best decisions. Coach Carson made the classes simple and doable; so I was able to complete a chapter a week. Action items and goals were individually tailored.
Coach Carson is knowledgeable, a great listener and passionate about helping each student to be successful. Hands down, whether new at real estate or you want to step up your business, you'll want in on his coaching.
- Khristi Vee, Jacksonville, FL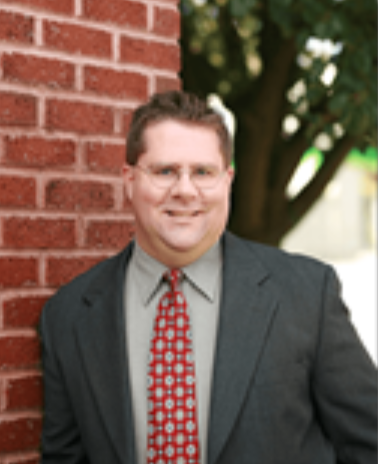 "After Chad's course I had the knowledge, skill and most importantly confidence to go out and start making offers.
Since taking Chad's course I have purchased one new property and just got another one under contract."
- Michael Temple, Toledo, OH
Follow the unique milestones within Real Estate Deal School to avoid
overwhelm and make progress toward your real estate goals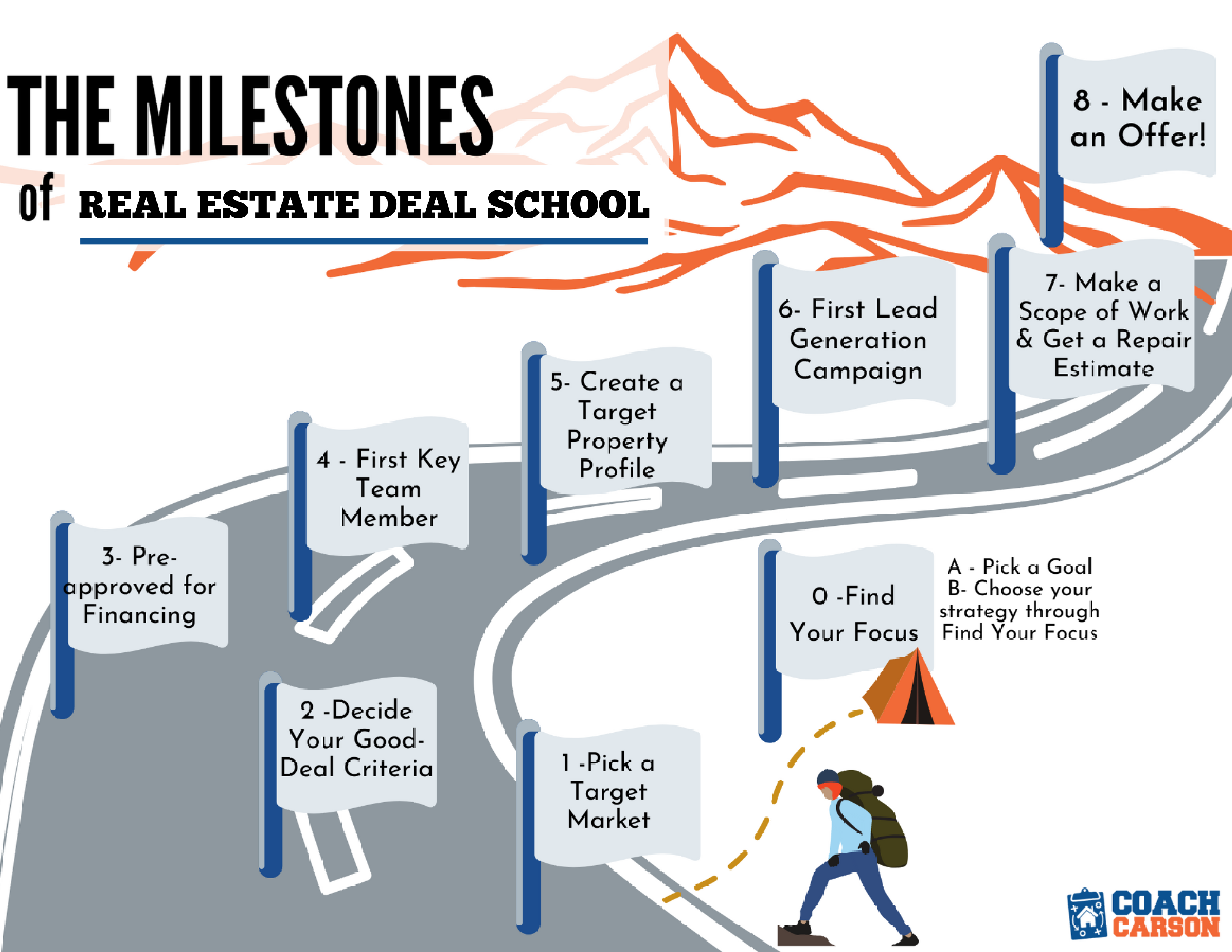 COURSE INFORMATION
How You Will Participate in Real Estate Deal School

Real Estate Deal School is a 9-week, "boot camp" style course designed to guide you step-by-step to your next purchase. If you're a relatively new or intermediate investor and you're looking for personalized help and accountability, this is the course for you.
Clear milestones & action items help you build momentum, teaching you how to pick a target market, run the numbers, raise financing, build a team, and find those elusive good deals.
9-weeks of active sessions with Coach Carson and fellow students. And with lifetime access, you can repeat these active sessions each spring and fall as many times as you like.

[Tuesday] Live lessons and office hours with Coach Carson give you an opportunity to learn and ask questions (every Tuesday at 8 pm EST during active sessions)

[Thursdays] Study Hall to do course activities and get help from your TAs (teaching assistants). These sessions allow you to connect with fellow students in small groups while also getting support, accountability, and feedback from TAs, who are investors a little further along your same investing path (every Thursday at 8 pm EST during active sessions).

Exclusive access to a student & alumni private online community to discuss the lessons, keep yourself accountable, and trade ideas with your fellow classmates and alumni of the course
You can also work at your own pace with anytime access to eight distinct modules with over 55 videos, taking you from scratch to getting started with your real estate investing business.
Bonuses help you go deeper, including a physical workbook, cheat-sheets, checklists, a series of special Expert Interviews with successful real estate investors, and textbooks and graduate courses to learn even more on subjects like finding good deals, rental property analysis, creative financing, estimating remodel costs, flipping houses, and more.
Lifetime membership to the course + community Pay once, repeat any part of the course, get future updates, and stay connected to the community for life.
LIFETIME ACCESS TO
THIS COURSE & BONUSES
Including these newest "Grad Level"
Real Estate Investing Courses:









WHO THIS COURSE IS FOR
Rental investors (local or long distance), house hackers, fix-and-flip investors, or wholesalers who want to master the process of buying good deals

Real Estate Deal School is for those who want to use real estate to achieve financial independence but need help with the steps to get started (or restarted) with their next property.
You understand the power of real estate investing. You like the control it gives you to build wealth, generate income, and eventually make working for money optional. But real estate investing also has a lot of moving parts. Making progress can sometimes feel overwhelming (even if you bought real estate in the past).
Real Estate Deal School is both the guide AND the supportive community you need to get unstuck, become confident, and move forward towards your next purchase. It's designed for local landlords, long-distance landlords, house hackers, flippers, or wholesalers. And it can help whether you're brand new or just getting back into the game.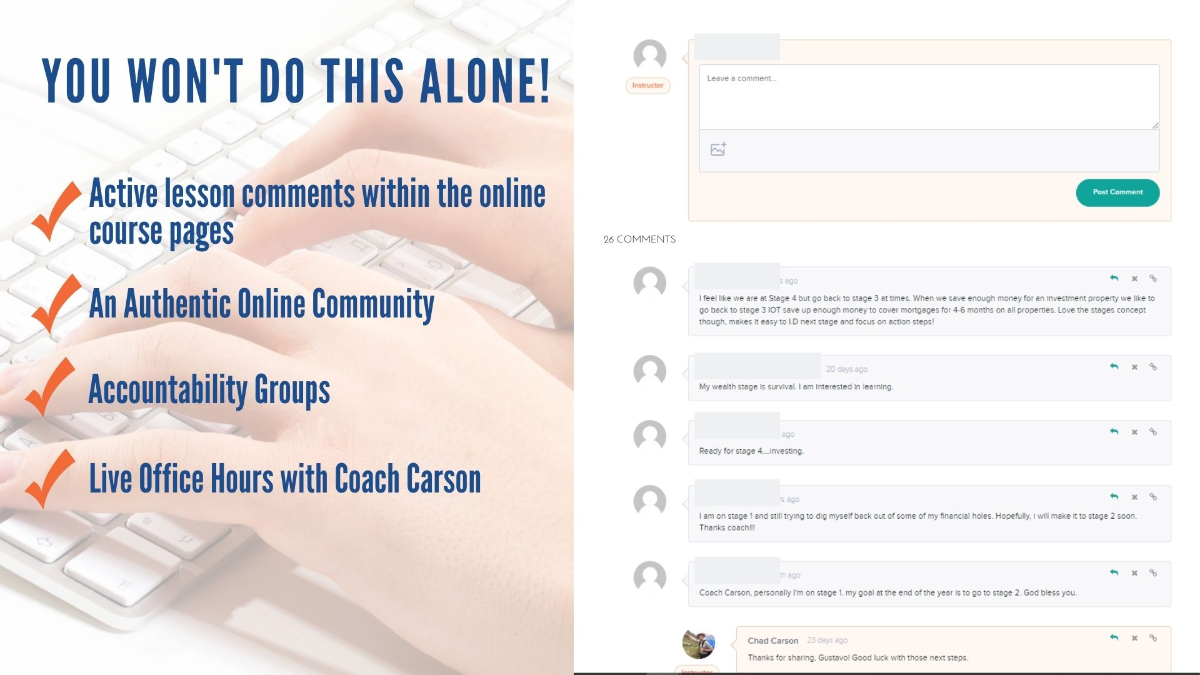 You have LIFETIME ACCESS to Real Estate Deal School.

We understand juggling the business of life. Starting to educate yourself now is a great first step.

You can self-pace the modules and when the time is right to buy your next deal, you have access to Coach and the community.
OTHER BONUSES!

Every participant will be mailed our
REAL ESTATE DEAL SCHOOL WORK BOOK
& Motivational "DO WHAT MATTERS" decals
MAILED TO YOUR HOUSE*
(*Continental US only for physical workbook)
---
---
BONUS INTERVIEWS FROM THESE TOP REAL ESTATE INVESTING EXPERTS





COACH CARSON CHARITABLE MISSION: 50% of Coach Carson, LLC profits are committed to charity.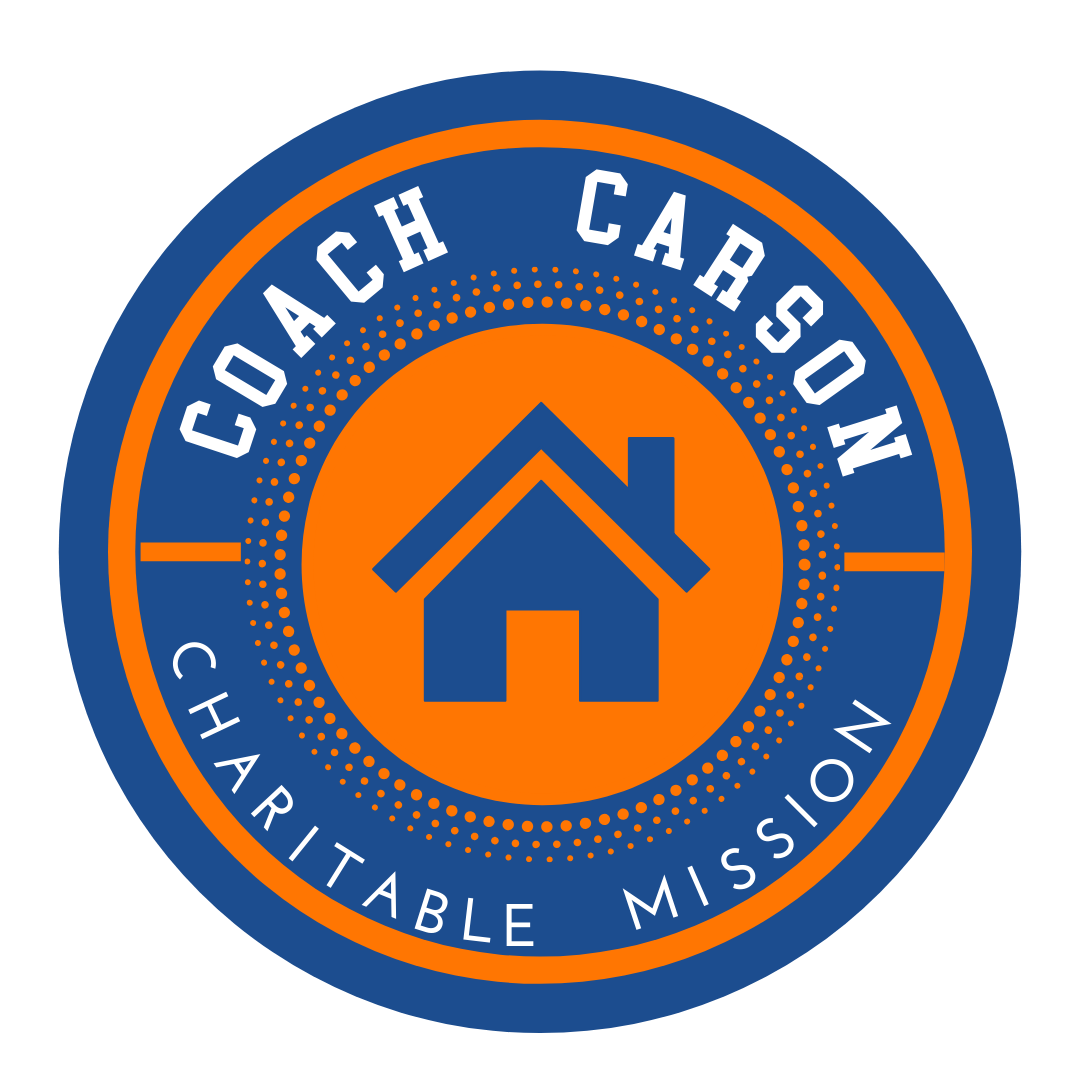 DON'T TAKE MY WORD FOR IT
Below are more testimonials about Real Estate Deal School and Chad's ability to help investors do more real estate investing deals.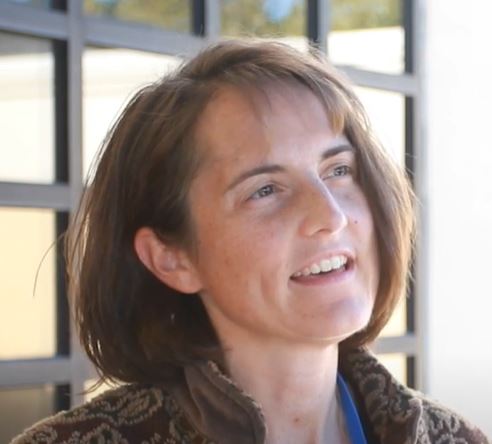 "Chad really cares about everyone and wants everyone to be successful in whatever they're doing. And no matter where you're starting or where you want to go, this course really gives you the knowledge and confidence to just use real estate to do some different things."
- Debbie Woollens, Greenville, SC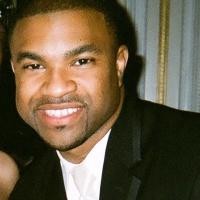 "The biggest thing I appreciate with the course is just the structure itself - of the milestones and the curriculum. That structure gives me confidence that I can focus on one thing at a time because prior to the course, I was kind of all over the place.
I would get lost in YouTube. I'd get lost in books. I would get lost in all these different places and find a whole different strategy.
But when I actually took this course and listened to it every week, it really helped me with that confidence and that one-thing-at-a-time approach.
And actually, it made more sense that way. It made things stick better."
- Dennis Higgs, Bloomfield, NJ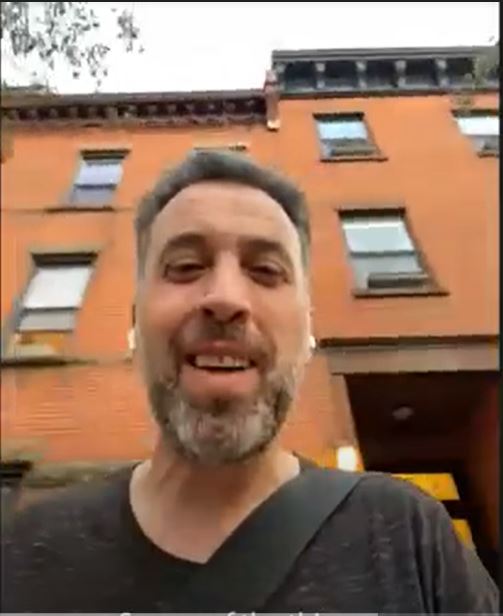 "One of the things [in this course] that really resonated with me was this whole idea of being super targeted in a specific area ... I was struggling with this whole location of Brooklyn and the price-point was too expensive. And I thought about going to other parts of New Jersey, Philly, wherever it's cheaper.
Long story short I realized that Brooklyn is really where I wanted to be looking. And I found this one pocket of Brooklyn, Sunset Park, which is just this sweet spot within my budget but I also feel comfortable there.
And so literally every day and every weekend I'm here, I'm walking around, I'm looking at properties. It was really intimidating in the beginning. These big properties, all this stuff going on.
But now I'm starting to get really much more comfortable understanding what really matters, what to look for. It's still a journey, but I feel like I'm getting closer."
- Anders Ramsay, Brooklyn, NY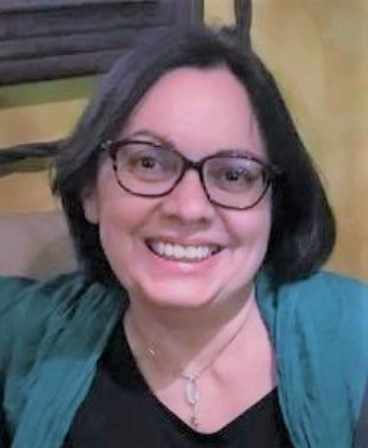 "The course is perfectly designed and is easy to understand and follow.
Chad follows through with his pupils and continues to keep in touch with alumni periodically and to offer additional materials and lessons. I feel that he really cares about his students."
- Victoria Torres, Silver Spring, MD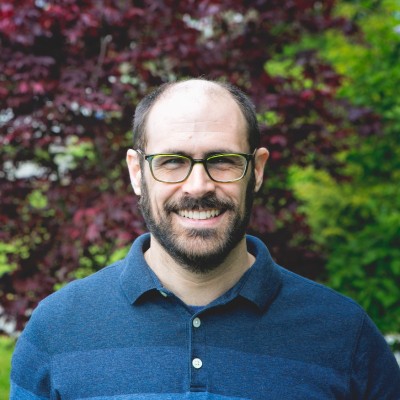 "I think one of the most valuable things for me is just the connections that I made in the course ..."
"I think one of the most valuable things for me is just the connections that I made in the course with you, coach. Of course, that's huge to make that connection and to get behind the scenes a little bit ... The American IRA connection has been really awesome and just having him on to kind of go over that. The TAs have been fantastic. I've connected with a number of them like John and Karen, and they've been super helpful even outside the class.
Also, the course content ... Just being able to revisit things. The downloads, especially to be able to download the checklist and analysis things, and just all of the sample promissory notes and just all that content is super helpful because you hear about all that stuff. But I feel like there's not a whole lot of the actual example of the real world that I need. I kind of get the concept, but it's helpful to actually see it right in front of you."
- Chris Livdahl, Greenville, SC
SPRING 2022 COURSE SCHEDULE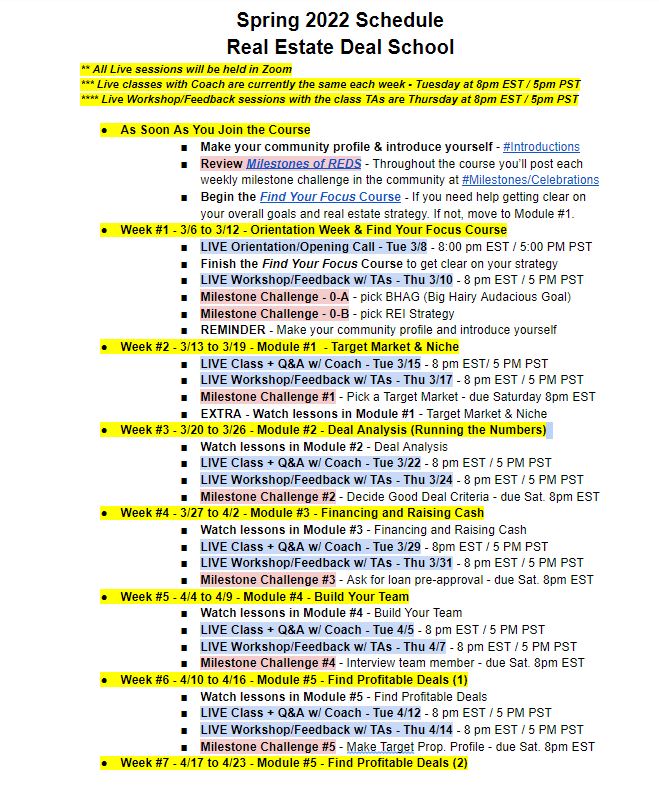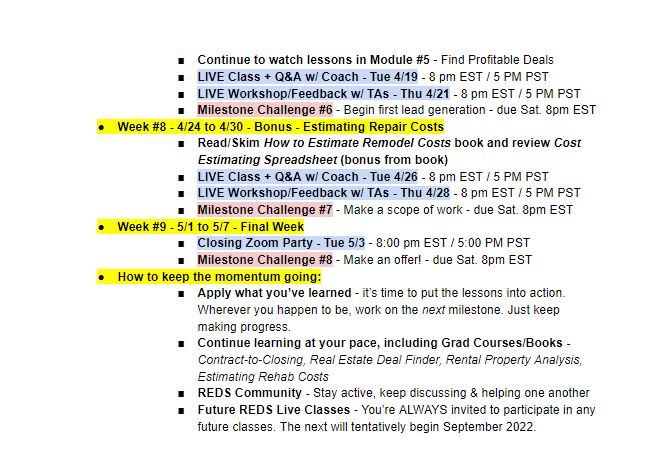 GET UNSTUCK IN REAL ESTATE INVESTING
& GET STARTED NOW

Don't get stuck in analysis paralysis or being a perennial student. Instead, start moving forward towards your next real estate deal. Taking action is your best teacher, and that's exactly what Real Estate Deal School will help you do.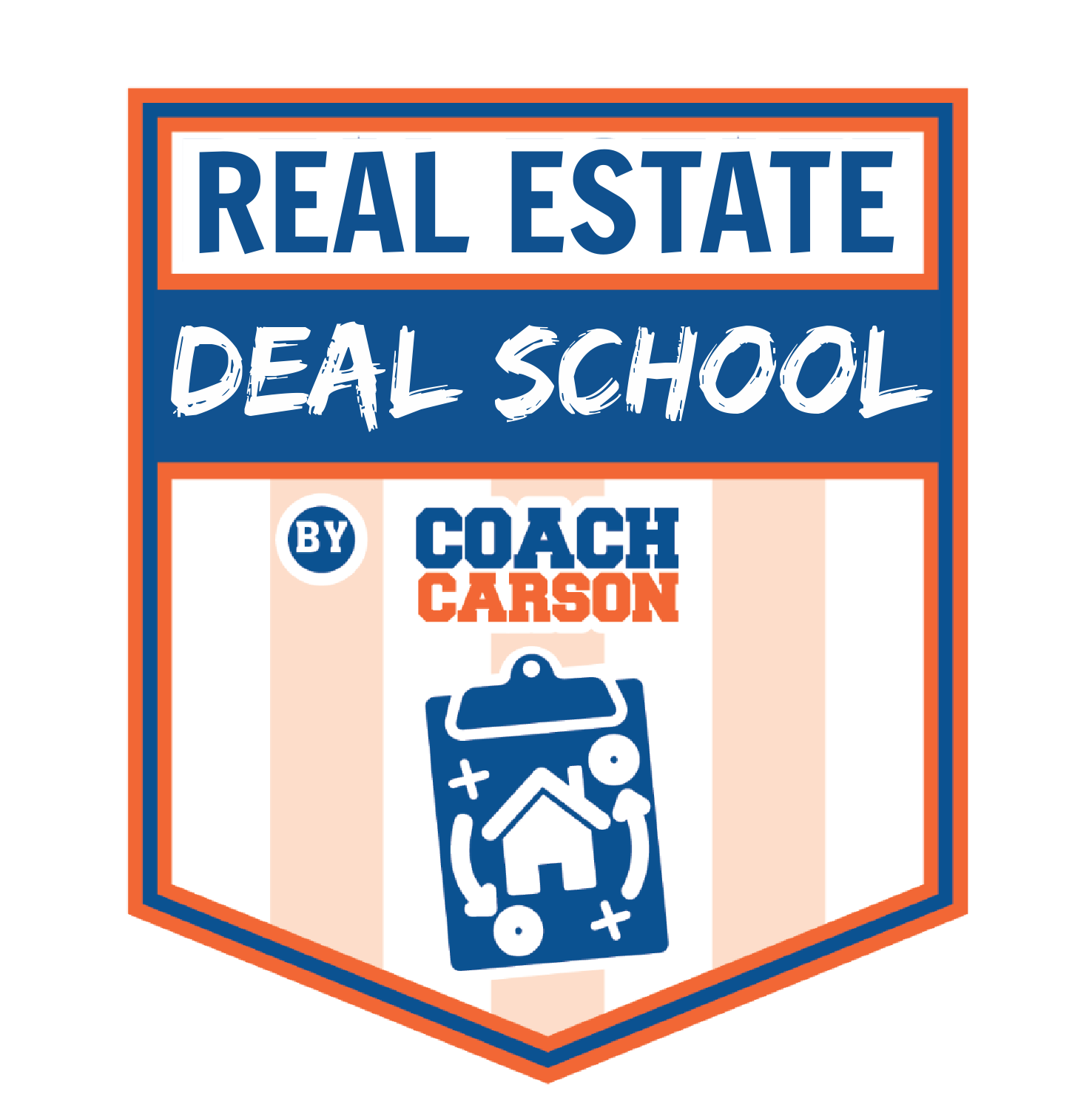 LET'S SUMMARIZE EVERYTHING YOU RECEIVE IN REAL ESTATE DEAL SCHOOL:

Weekly Live Lessons and Group Coaching/Office Hours with Coach Carson for 9 weeks - ask anything and get personalized help.

Weekly Study Hall sessions with TA's (Teaching Assistants)

organized by real estate strategies (local rentals, long-distance rentals, etc) that allow you to connect, learn from, and have accountability with like-minded investors from around the country.

Guidance through the 8 milestones of Real Estate Deal School so that you can measure tangible progress
5 Core Education Modules with over 55 audio and video files
An 80-page workbook mailed to your house (and downloadable) to keep you focused and on track
Past Office Hour Archives - 60 Q&A Sessions
An Authentic and Active Community

Inside the Course Online Community

In the comments of the course modules

Inside weekly Study Hall small-groups that are split up by strategy (local rentals, long-distance rentals, etc)

Bonus

"Grad Level" Real Estate Training For More Depth on Critical Topics

Find Your Focus - Real Estate Investing 101 (value $99)

Real Estate Deal Finder (value $199)

Rental Property Analysis (value $199)

Contract-to-Closing (value $199)

How to Fix & Flip Houses For a Profit (value $50)

Bonus Physical Books

The Book on Estimating Remodel Costs, by J Scott (Value $25)

5 Bonus Expert Interviews with leading experts
AND LIFETIME ACCESS TO THIS COURSE, THE BONUSES AND FUTURE ADDITIONS TO THIS COURSE
Frequently Asked Questions
When does the course start and finish?
The live component of the course lasts 9 weeks. See the schedule/calendar on another part of this registration page. But you have access to all digital educational material immediately, and access never ends! The core lessons are a completely self-paced online course, and you can decide when you start and when you finish each week. But by enrolling in the live course with other students, you get to participate in weekly activities like live teaching with Coach, Office Hours calls, and online forum discussions that are designed to hold you accountable and help you make progress faster.
How long do I have access to the course?
How does lifetime access sound? After enrolling, you have unlimited access to this course for as long as you like - across any and all devices you own. And you get to join any future live sessions or group coaching calls offered to students.
Will I get access to the full course all at once?
Yes, everything is available immediately.
What if I am unhappy with the course?
We would never want you to be unhappy! If you are unsatisfied with your purchase, contact us in the first 30 days and we will give you a full refund.
What are the Office Hours and Study Hall sessions like? When are they?
I use an online meeting software called Zoom.us which lets you see and hear me (Coach) via video. And then you can participate by listening, chatting, and talking over your computer or phone. All calls are recorded for later listening. For now the calls are every Tuesday and Thursday at 8pm EST. The Tuesday call with Coach usually starts with a lesson for the first 20-30 minutes, followed by a recommended activity or homework for you, and the rest of the time (up to 1.5 or 2 hours) is 100% your questions and discussions. The Thursday "Study Hall" is a 1-hour session designed to give you time to work on the activities in the course while getting questions answered by our teaching assistants and other students in a small group setting.
Do I need a lot of cash to get started in real estate investing?
It depends. But your start will certainly be easier if you've saved up cash for down payments and other upfront expenses. With that said, Chad began real estate investing with $1,000. This course will teach you strategies if you have a lot of funds or if you don't.
Will this real estate information work in high-priced markets? What about outside of the U.S.?
High-priced markets have their challenges and benefits. But there have been many past students in high-priced markets who bought either locally or chose to find a cheaper market long distance. This course will help you decide which option to pursue that's best for you.
Why are you teaching and selling a course if you already achieved financial independence with real estate investing? What's your motivation?
Important question! And the answer has a couple of parts. I do everything at Coach Carson - from the blog, to podcast, to videos, to a paid course - because I LOVE teaching. I also love real estate investing and I'm good at it, but I feel called to be a teacher. It's my vocation and a deep passion. I charge for the course because it requires more of my time than simply writing articles, recording podcasts, or recording videos. And I also want to use the revenue to make Coach Carson a sustainable business - like paying for people to help me do things so that I can focus on teaching. The emails, admin, editing, and website stuff alone have become a big commitment! Plus ... starting in 2019, I committed to contributing 50% of all profits from Coach Carson, LLC to charity. As this education business grows and becomes more successful financially, I'd like it to also be an engine to make a difference socially (Charitable Mission: https://www.coachcarson.com/charitable-mission/). So, in addition to getting an education and buying properties that make a profit for yourself, you're helping me to change the world for the better!
What do I do if I need help?
If you need help with something related to the course, please contact
[email protected]
Thanks!
Is this course appropriate for beginner investors?
Absolutely! If you've never invested before, this is a perfect place to start because you'll build a solid foundation and learn the steps you need to make progress toward your first investment property purchase. If you've already bought a few properties but want to take your investing to the next level, this course is also for you.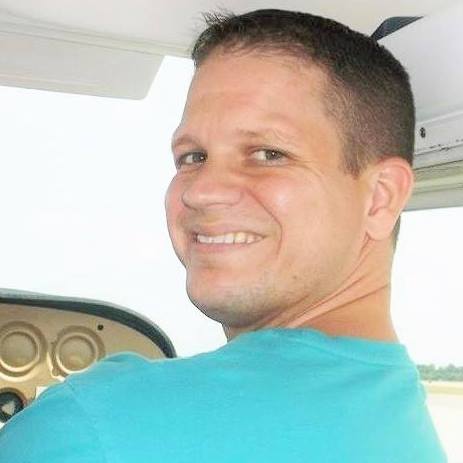 "To sum up Chad in 4 words- Character, Knowledge, Accomplished, and Intelligent."
"I have known Chad Carson as a fellow Investor and in my capacity as Director of Education for the Metrolina Real Estate Investor's Association in Charlottte, NC since 2008.
I cannot fail to stand in awe of Chad's accomplishments and consistency as a real estate investor. Our organization has had him in to teach on various subjects, and he has invariably covered the subject thoroughly, entertainingly, and at a level incredibly appropriate to the subject audience.
As a coach and mentor, that is where Chad really shines- he can take an Investor making $75K per year and help him get his business to the next level of well over $6 figures, but can just as easily adapt his level of instruction to help a brand new Investor do his or her very first deal without overawing, overloading, or burdening them with information that is at that level superfluous. You will find this quality well-nigh nonexistent among those who coach other investors. To sum up Chad in 4 words- Character, Knowledge, Accomplished, and Intelligent.
- Lou Gimbutis, Charlotte, NC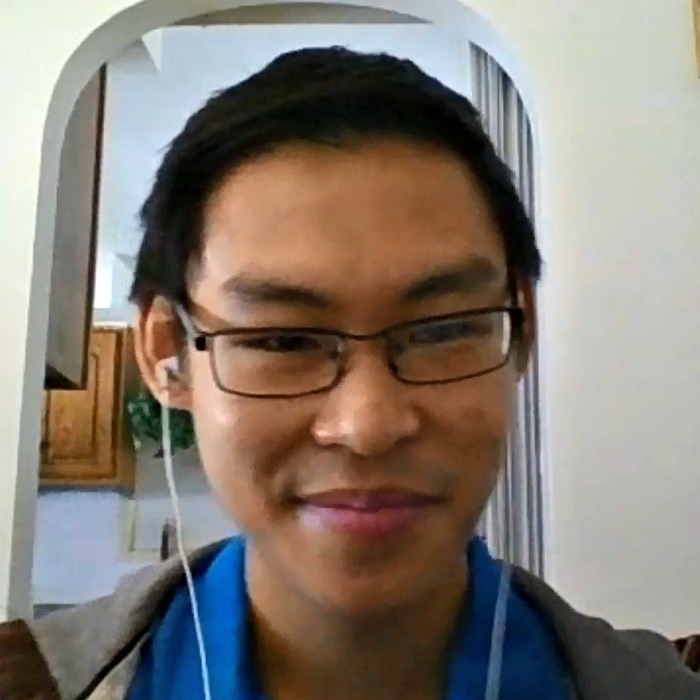 "This is a no-brainer just to buy the course ... because I don't think I would've gotten started and done the action items without getting involved in Real Estate Deal School. I would've just still been reading and wondering."
"I was like 'ok, yeah - this is a no brainer just to buy the course.' I really like the way Chad teaches, really down to earth. He makes real estate investing really approachable and possible. Because I don't think I would've gotten started and done the action items without getting involved in Real Estate Deal School. I would've just still been reading and wondering.
First, from like a psychological perspective, I liked how right from the start Chad was like 'don't worry about being perfect, just pick a number, pick a day, and just do it. That really set the tone for the entire course. A lot of what's stopping me - and I'm sure a lot of people - is the need to be perfect. It cripples you and paralyzes you.
And then I really liked figuring out my why - I want to have income flowing while I'm traveling and just enjoying myself. It's my big why.
And I also liked picking my financial independence goal … Chad said to just pick a number, it could change. That gave me a huge sigh of relief. I thought I had to be perfect and figure it out with a ton of unnecessary math. So, I just picked a number - $60,000/year - and most of it would be passive income.
And just looking at properties and evaluating them and seeing if they were a deal was huge for me. I don't think I would've done that myself. I liked the simple math - the cash on cash return, net income after financing. It's cool … when I first started doing it, it took me forever because I wanted to be good at it and I wanted to be right. But at this point not even 2 weeks after doing it a little bit every day, I'm really fast at it. It's just gotten a lot faster and a little more intuitive. So, that's cool. It's really rewarding to see that.
If you're like me and you were just wondering about real estate investing and if there was a perfect time, there is no perfect time, really. Just do it now.
The way Chad coaches you, he takes you step-by-step. You have an action item after each lesson. And that's why I've been taking it really slowly - I really want to take the time to do the action item, because every time I do it I feel like I'm taking a huge leap forward and building a foundation that's going to be great for years to come.
- Michael Nguyen, Philadelphia, PA and Tokyo, Japan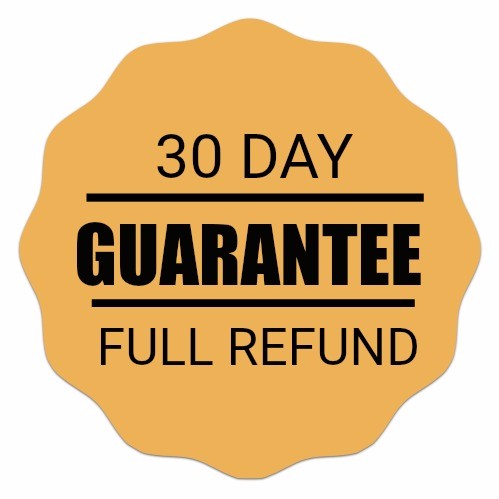 GUARANTEE
Real Estate Deal School comes with a 30-day 100% money-back guarantee. I pride myself on high-quality programs that actually work…if you put the work in. Meaning, if you do study the material and do the action exercises, good things happen. If you don't do it, nothing good happens.
If within 30 days you are unhappy for whatever reason just email our customer support. We stand behind Real Estate Deal School 100%.
This course is closed for enrollment.