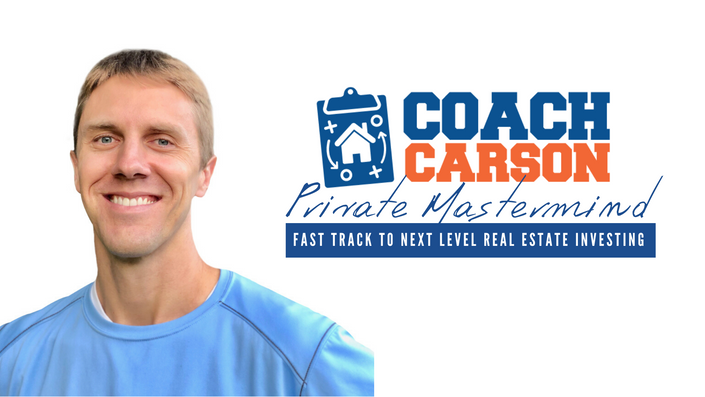 Coach Carson Private Group Mastermind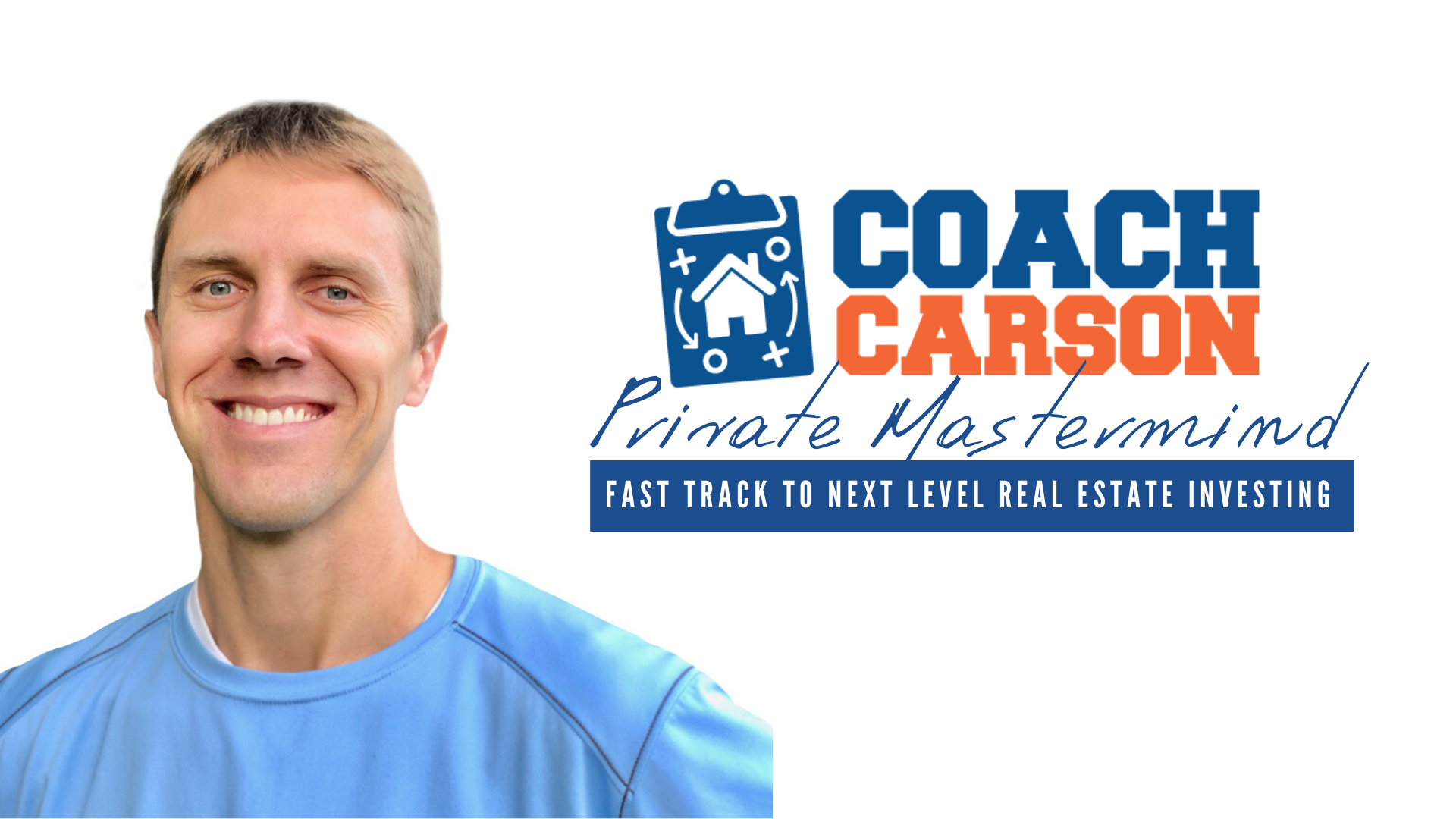 Next-level real estate investors wanted!

This is an invitation to participate in a exclusive 6-month program with me and a hand-picked group of fellow real estate investors. We will work together, with me as the coach, to achieve next-level breakthroughs in your real estate business in 2020.
What kind of breakthroughs? Your specific goals are up to you. But here's some of what I expect to see from those who participate:
buying more deals

raising new capital

improving your business operations

building more expertise and confidence

hitting your goals even faster (while also having a lot of fun!)
Let's hit new real estate investing goals together in 2020!
What Can You Expect as a Mastermind Participant?

Personal coaching from Chad "Coach" Carson

Chad will personally guide and push you toward becoming your best as a real estate investor. While his other program Real Estate Start School includes office hours calls, this is the only opportunity to get regular, 1-on-1, personalized coaching from Chad.

Accountability and accelerated learning within a mastermind group

Breakthroughs happen regularly within a mastermind group filled with helpful, like-minded people. You'll give and receive feedback, ideas, and encouragement within a small group of your peers.

A FIELD TRIP! An in person 2-day event in Chad's hometown of Clemson, South Carolina

Join Coach and your fellow mastermind members for an intensive workshop weekend full of learning and practical steps forward in your business. And while there, you'll get a behind the scenes tour of Chad's properties, business operations, and new projects.

Deep Learning

You'll go deeper on the ideas you learn in Real Estate Start School about market analysis, deal analysis, financing, team building, negotiating, deal finding, and landlording. You'll walk away with better skills and more confidence as a real estate investor.
Details of How the Private Mastermind Works:

I'm limiting the group to a max of 8 people and a minimum of 6 (couples can participate and count as "1" person). This way we can interact effectively and efficiently as a private group.
Here are the activities we'll do during the 6-month program:
1-1 Coaching with Chad - An upfront intake questionnaire, an initial 60-minute consultation to get started, monthly 1-1 calls during the program, and prioritized messaging support for additional questions.
Group mastermind calls (every week) - Two members will be on the "hot seat" during each call. The hot seat is where you share your current projects and challenges and then receive productive and non-judgmental feedback from Coach and from the group. Each member receives at least 2 hot seat sessions during the program and commits to participating, learning, and offering help while others are on the hot seat. All calls are recorded and available as a video or audio download in case you miss the call or want to listen later.
In-person weekend workshop in Clemson, SC - The focus of the weekend will be hands on learning with deal finding, negotiating, financing, business operations, and more. Time will be split between classroom and field time looking at actual properties with Chad.
Private Online Community - You'll be invited to a private online community exclusively for mastermind members. You'll be able to post questions and ideas to the group and chat 1-on-1 with Coach and other members.

Real Estate Deal School (REDS) curriculum as a framework - If you're not already a member of the REDS course, you'll get it for free. Also includes bonus courses on Deal Finding, Negotiating, Creative Financing, & more.
The atmosphere of our group will leave you motivated, challenged and focused. You can expect some friendly competitions and challenges, and yes, even some prizes.

Chad donates 50% of all profits of Coach Carson, LLC to charity.
Who is the Private Group Mastermind For (and Not For)?

This group is built for investors who have already started investing in real estate or who already have entrepreneurial or business experience in other arenas. You don't need to be an expert, but some prior experience is required.
We've all been beginners or tried to learn something brand new. But this isn't a beginner group.
My other program Real Estate Start School is built for both beginner and intermediate investors who want to learn and master the process of finding, financing, and purchasing real estate investing deals. If you need a deep-dive into learning within a supportive community, that is the right place for you.
For this group, on the other hand, I'm looking for people who are in the right place to take their business to the next level (whatever that means for you). By already having at least some basic investing knowledge and success, you can both learn from and contribute to your peers on a much deeper level.
The group could include:
Long-distance investors

Small residential landlords

Multi-family landlords

Turn-key investors

Fix-and-flip investors

Wholesalers

Mobile home park owners
The common goal will be the ambition to use direct ownership of real estate as a path to achieve financial independence. And you will learn and move together toward that goal in a safe environment from people in various markets and with difference expertise.
If you're still on the fence about whether coaching and this group is right for you, feel free to make a deposit and have a call with Chad. You'll get 100% of your deposit back if you or Chad decide it's not a good fit.
Schedule of Important Dates

** Example dates from prior class below **
Wednesday January 15th, 2020 - Program Officially begins
January 16th to January 31st - Up-front 1-1 consultations with Chad
Wednesdays at 3 pm EST / 12 noon PST

Group Mastermind Calls

Calls each week

All calls are recorded & available as video & audio download


Thur March 5th (evening), Friday March 6th, & Saturday March 7th (thru midday)

In-Person Workshop in Clemson, SC

Greenville-Spartanburg Airport (GSP) is 45 minutes from Clemson and available by Uber/Lyft

Plan to arrive by Thursday evening for happy hour and networking

Friday - workshop sessions / tour all-day

Saturday - workshop sessions / tour until midday/lunch. Feel free to depart after lunch.

Tuesday July 14th - Program officially ends and the next mastermind group begins
Frequently Asked Questions
When does the Private Mastermind Group start and finish?
The group officially begins with a group call on January 15th, 2020 and ends on July 14th, 2020. Those already in the program will have first option to renew and stay in the mastermind for another 6 months if desired.
Is there a refund policy
After the start date of the mastermind group, there is no refund. But there is an upfront application process before starting where you pay a REFUNDABLE $1,050 deposit and then complete an intake questionnaire and have a 30-minute call with Chad. If you are unsatisfied or choose not to move forward after this initial consultation, you can get a full refund of your deposit.
What costs are included in the 2-day workshop in Clemson, SC
You're on your own for travel and hotel for the event. A couple of meals will be included so that we can collaborate and keep working! But a few will also be on your own. Any transportation to tour local properties during the workshop will be included.
How do you qualify to be in the mastermind group?
First and foremost, I (Chad) want to make sure that an investment of your time and money into personal coaching and a mastermind is a good fit. So, I will ask questions about your goals and your personal financial situation. For example, if you are stretching to pay your bills financially and charging your last dollars to be in the program, I won't be able to accept your money. I still care about your success! But an investment in this program would be premature. Second of all, I want to make sure that your attitude and commitment level are good fits for the group. The success of personal coaching and a mastermind group depend very much on whether participants are willing to give as much as they get. So for your sake and for the sake of all involved, I won't accept people just looking to take and not to foster a productive environment for all involved.
Does this include Real Estate Dea; School?
Yes, you get access to the foundational knowledge of Real Estate Deal School as part of the Private Group Mastermind.
What Others Have to Say About Private Coaching With Chad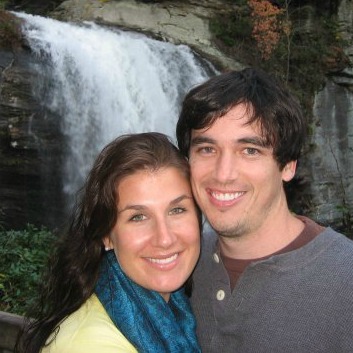 "The great thing about working with Chad is that he helps you understand your strengths and weaknesses so that you can come up with a plan that makes sense for your personal goals. Unfortunately, we have seen a lot of friends jump from strategy to strategy but Chad gave us clarity to understand what we wanted so that we could reverse engineer the process.
Chad has been everything you could ask for in a mentor and it has grown into a terrific friendship as well. You can't ask for anything more than for someone to educate you on the mechanics of investing and to also help you cultivate a plan that makes sense for your life. We have far exceeded our goals to this point and it is largely due to having fantastic resources like Chad.
He is the ONLY person Sean and I would recommend to someone if they are just getting started in real estate or if they are looking to take their business to the next level.
- Heather and Sean Mckay, Charlotte, NC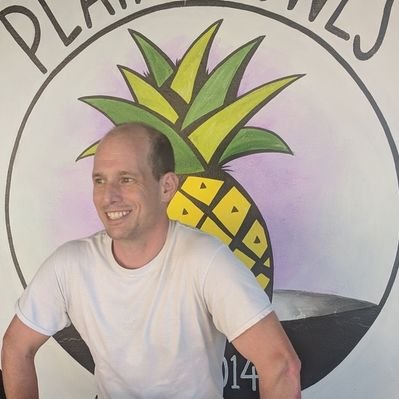 "I had been dabbling in real estate for 10 years and was contemplating going full time. I signed up for one-on-one consulting with Chad - AKA "Coach Carson."
We tackled a range of subjects such as deal analysis, record keeping, QuickBooks, foreclosures, financing, and lead generation. There is no question, the money I spent on the coaching was the best investment I could have made.
I was looking at a property that we analyzed together and decided that it yielded poor returns at the price at which the owner was willing to sell. I could easily have over-paid by tens of thousands of dollars for that property and tied up valuable capital for years. I can't recommend working with Chad highly enough."
- Jean-Paul Cane, San Luis Obispo, California
How to Get Started
The full investment in the Private Mastermind is $10,000 or six monthly payments of $1,750/month.
But there is an application process required before being accepted into the program.
Here's how the application process works:
Step 1: Pay a $1,750 deposit to reserve your spot (click button below)

Step 2: Complete the application linked on the Thank You Page after paying the deposit

Step 3: Complete a 20-30 phone consultation with Chad to ensure this program is a good fit

Step 4: Pay the remaining balance owed or confirm in writing for the deposit to be used as payment #1 of the payment plan.
The $1,750 deposit is fully refundable until the time of the consultation with Chad. After that, you must decide to move forward (or not) in order to continue reserving a spot.
This course is closed for enrollment.